Project description
Italian brand BRAIN BEE was founded in 2001 in Parma, and is one of the leading suppliers in workshop solutions, with a market presence in more than 90 countries. After MAHLE acquired the company, we were given a comprehensive brief to develop the brand along with a new corporate design.
Implementation: As part of the brand creation process, we developed a new 'brand steering wheel' as a central management tool for everyone in the company who deals with the BRAIN BEE brand on a daily basis. With this as our starting point we moved on to brand design, distilling the design elements and brand statements to produce a modern, emotive corporate identity. The key visual is a hexagon, which replaces the previous bee logo. The imagery, designed to support the new slogan, 'IT SIMPLY WORKS', pictures happy customers in an engaging, authentic garage environment. The new corporate colours are a variety of greys coupled with a crisp shade of green.
Shortfacts
Sector/Products: Automobile industry, OEM, workshop and parts business, worldwide
Customer since: 2018
Awards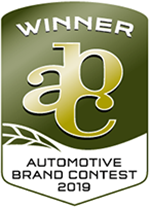 Winner, Brand Design category
We're especially proud that our brand relaunch of BRAIN BEE won the Brand Design category at the 2019 Automotive Brand Contest – the only international design competition for automobile brands, which has quickly become a flagship industry event. The award ceremony was held on 10 September at the International Motor Show (IAA) in Frankfurt am Main.

Our BRAIN BEE brand relaunch was highlighted in the ECON Megaphon Awards 2019 yearbook as an exemplary industry model.
Current Projects
Vierol AG – #beclever
FACT
2022-09-20T10:33:47+02:00
GKN Automotive Aftermarket – Experience better
FACT
2022-09-20T11:58:19+02:00